BackUps
&
Disaster
Recovery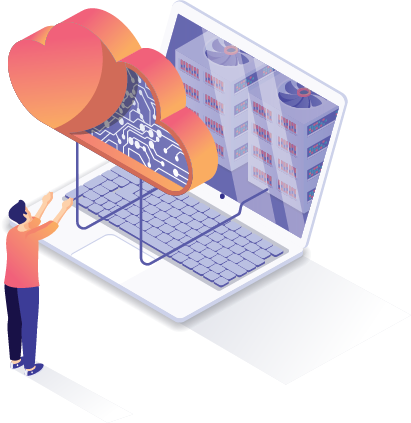 It's impossible to predict what could go wrong with your business operations. What you can do is be prepared for the possibilities. Like many businesses, access to company data and a reliable network are crucial to perform operations successfully.
It is crucial that all businesses have a backup and recovery service. Off-site backups are included with every IT Service agreement since they are so important. 
What Are Off Site Backups?
A network image of the server is uploaded to a secure data center when an off-site backup service is used. Many of the dangers that could destroy data are protected by the data center, including water, electricity failures, fires, and burglaries. The backup schedule depends on how often the company needs to update the data. Once the initial data image, files, and software are uploaded, incremental updates are made frequently to ensure they remain up-to-date.  Off-site backups ensure that SymbiSystems clients can feel secure that data will not be lost in case of a crisis. 
Off-Site Backups
In addition to being local, on-site backups can also be done inexpensively with NAS (Network Attached Storage) devices or local hard drives. On-site backups have the advantage of being quick and easy to upload and download. However, there are disadvantages to using them. Whenever a physical crisis occurs, the backup device may also be affected, so the data along with the hardware could be destroyed at the same time.  The disadvantage with these devices is that they can be stolen or physically damaged. Another disadvantage is that they have to be backed up manually. Business owners need a backup solution that is automatic so that data is backed up routinely without having to hire someone to do it. 
Hybrid & Cloud Backup
In order to provide the company with the benefits of both on-site and off-site backups, SymbiSystems recommends setting up a hybrid backup solution. SymbiSystems uses this solution for many of its clients. Using a local backup, data is backed up routinely without the need for staff assistance. The off-site backup option provides the company with a backup solution in the event of a physical crisis on-site. 
Crisis
In the event of a network crisis, backups allow for data recovery. Hard drives can fail, they can be hacked, they can get viruses, and backups can recover those data. Besides fires, flooding, and robberies, physical threats can also damage network equipment. In each of these circumstances, backups are necessary to recover data due to employee error, disgruntled employees, or robbery.  Using backups and recovery plans, SymbiSystems prepares businesses for the worst case scenario. 
Ransomware
A recent survey indicates that 60 percent of businesses have experienced a security breach. Ransomware is a type of virus that holds a company's data hostage until a ransom payment is made. The best antivirus program can help, but can also be thwarted. If the data is backed up off-site, the virus can be destroyed and the data recovered without paying a ransom.  As a proactive strategy for protecting its clients, SymbiSystems can recover business data in the event of a disaster.
Minimal Downtime
An important aspect of business operations is the Return to Operation (RTO). When your network is down, how long will you be able to afford to have your business down? With a backup, you can restore the same server image or duplicate quickly, so your staff can get back to work as soon as possible. Local backups can be recovered within a few hours if they are available. Off-site backups can achieve the same RTO, but the recovery time will depend on how fast your Internet speeds are and how much data you want to recover.  Backing up the server prevents downtime and low recovery time objectives by preventing the server from having to be rebuilt. This can take a week or more, losing access to workstations, printers, and data. 
Less Expensive Recovery
In a crisis, a business still has to pay its employees, manage its staff, produce products, and sell them. Every minute they are unable to work or do so efficiently costs it money. While still incurring staff costs, a network that isn't functioning can prevent all of these activities. For example, a law firm may employ several attorneys.  In the case of four lawyers getting paid $4000 per week and not being able to bill more hours in one week, the loss could be $50,000. Backups are a good guarantee against data loss and revenue loss during data recovery.
Software Preservation
The loss of software during a data crisis is also an important factor to consider when it comes to costs and convenience. When a server crashes, it loses all the data on it, including the operating system and software. The majority of companies spend a lot of time and money on software. It is not just the files that are lost when a crisis occurs, but also the software.  Therefore, if the server is running Windows, it is no longer available to run it, along with any virtual machines, Active Directory, and other software, and must be purchased again. Additionally, other software must be purchased and reconfigured. As part of a backup image, the operating system and software are backed up, so that within just a few hours, the server, the switch, and the printers in your network can be up and running without having to spend more money than necessary on a new operating system and software.  
Server Hardware
Cloud-based software, such as QuickBooks, Microsoft 365, EMR, and client data software, is widely used by businesses. Instead of using an on-premise server for data and files, businesses keep them in the cloud. Do backups still matter? Yes! A company's files may also be stored on the server as well. For security reasons, most computer users access their accounts through Active Directory, which is stored on a Domain Controller.  Whenever the server crashes, all of these would have to be reconfigured as if it were a new server. It is important to back up data even if the files were reloaded from the cloud provider, as the software company would not have anything to load the files on until the server was configured. 
What Is The Cost?
Depending on the company's needs, additional backup storage can be purchased through SymbiSystems. Backups are included in each of its all-inclusive contracts. A healthcare provider needs to store seven years of patient data to be HIPAA compliant, so depending on how many patients the clinic has, more backup files are needed. For the duration of a project, which can last several years, architectural and engineering firms need to keep very large files for their projects.  The backup space requirements for these firms are much larger than those for accountants who use cloud software on behalf of their clients. SymbiSystems tailors its backup storage to fit the needs of each client. 
BackUp Speeds
Local backups are directly connected to the network, so they are very fast in transferring data. Backup speeds depend on the size of the data, the speed of the Internet, and the location of the backup. 
Data and Internet speed can influence off-site backup speeds greatly. Initial backups can take up to a month to complete in the cloud. Based on this chart, it is possible to estimate how long it will take an initial backup to complete. After that, incremental backups can be completed overnight since only the previous day's data is updated. 
Backup Security
AES-256 encryption, along with physical security at the data center and your office, is key to keeping your data secure both on-site and off-site. Off-site backups are encrypted using AES-256, which keeps your data secure even when it is in transit. 
In order to prepare for the worst-case scenario, SymbiSystems works with many different types of businesses to create backup and recovery solutions that are unique to their business. The data can then be quickly recovered with minimal return to operations if the worst happens. The network of a business owner can be protected and their company can be brought back to normal operation quickly when a crisis hits.