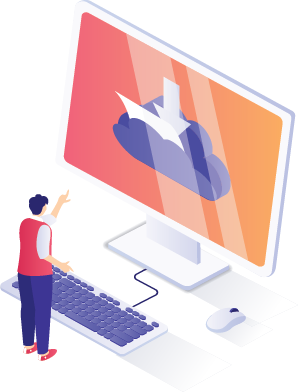 The importance of email to businesses cannot be overstated, and proper email support is crucial. 
In most businesses, email is the lifeblood of daily communications with clients, resources, and sales leads. So any email issues need to be resolved as soon as possible. SymbiSystems's helpdesk technicians understand how important email issues are for companies and strive to get them working properly as soon as possible.   A business needs email services support, wants to migrate from an on-premise Exchange Server to a cloud solution, or is concerned about security. 
Email IT Consulting
It is difficult for companies to decide which email options will work best for them now and in the future. SymbiSystems Services offers IT consulting that includes email advice. We offer a wide range of email services and have decades of experience working with a wide range of companies and sizes.  By engaging an expert in email IT consulting, businesses can find out what services are available, what security is required, when they can upgrade, and the advantages and disadvantages of each one. An IT consultant can help business owners make important choices about their company's email services.  
Types of Email Services
A number of email services are available, but Microsoft 365, on-premise Exchange, and Google Workspace are the most popular choices for business email. SymbiSystems's Email helpdesk service includes support for each service. Each option has different costs, advantages and disadvantages. Business owners can then decide what kind of email service they want to start or migrate to at each stage of their business based on this information.  Furthermore, it gives owners the confidence that whatever they choose will work efficiently in the future with support from the company.  
Exchange
Using On-Premise Exchange, each account has access to emails, contacts, calendars, and public folders stored on a server. All data, including emails, is stored on the server, making it more difficult for users to access data when they are away from their offices. All Exchange costs are paid up front.  Software updates are not included in the purchase price, so businesses need to budget for an upgrade every 3-5 years to ensure that the programs are still functional.    
Mircrosoft 365
Depending on your license, Microsoft 365 comes with email and software. All data is stored in the cloud, so it is accessible anywhere the user is located, and the email and software are accessible through apps on your computer or a web portal. There are a number of options available for different types and sizes of companies, all with different licenses and costs. The account includes upgrades and maintenance, so you don't have to plan for upgrades and maintenance. Using this type of account, your business can scale (bigger or smaller) according to need. Security can be managed easily via multifactor authentication, company policies and SymbiSystems can manage the account for you.  
Google Workspace
This option works for a variety of different types of companies and sizes as it is accessed solely via a web portal together with GSuite software for daily word processing, spreadsheets, etc. It includes upgrades, so there is no need for maintenance. In the same vein as Microsoft 365, it is scalable since it is a monthly account that can easily grow or shrink in size with the number of employees. Our team manages Google Workspace accounts so that staff can continue to work efficiently while still being able to communicate via email. 
New & Old Accounts
For companies, SymbiSystems manages all email support services, including managing email when new employees join a team or current employees leave a team. In order to keep the company secure, SymbiSystems manages permissions, security, computer setup, and termination procedures. Staff can then concentrate on their jobs instead of worrying about technology. 
Common Issues
Members of the staff often use email. It is possible for them to encounter problems with the software and service. If any of these issues arise, SymbiSystems is available to troubleshoot them. In the case of new computer setups, technicians can make sure email is working properly. Often, problems arise from upgrades to computers. Once the Windows or iOS update occurs, it can adversely affect the software.  In most cases, errors are minor and can be fixed remotely. Sometimes, it involves making bigger changes that are communicated from SymbiSystems to everyone so they can get back to work as soon as possible.
Migrations
Several companies are switching from on-premise Exchange servers to cloud email services due to their flexibility and ease of access. Staff can be guided through the migration process by SymbiSystems from an on-premise server to the cloud. A meeting is held to discuss procedures, choose cloud services, and schedule the migration. Once the migration is completed, each computer and user is configured with the new service.  Any questions or concerns can also be addressed by helpdesk technicians after the event.    
Security
The ability to terminate employees accurately and to use multifactor authentication are vital email security measures for companies. The company also offers employee education through newsletters, cyber security presentations, and phishing campaigns to prevent phishing emails and data loss. Email security risks include viruses and phishing emails.    
Secure Email
Healthcare providers and other organizations that send private or protected information through email can benefit from additional security options like secure email. Microsoft 365 and other email providers offer secure email as a service. With SymbiSystems, compliance and security are paramount while ease of email is taken into consideration.   
Other Communication Platforms
With the development of technology, more secure ways to communicate easily come into the marketplace. Email is an easy way to communicate between and within offices. Microsoft 365 Teams is a popular method for collaborating within an office and with external users. It allows teams to share calendars, files, and virtual meetings in a secure manner.  With Google Meets, you can hold virtual meetings and communicate within your workplace. You can also chat with external users. The SymbiSystems team can assist with the setup and support of any communication platform your business chooses to use. As a result, staff can communicate without issues getting in the way of pursuing new business or daily tasks.