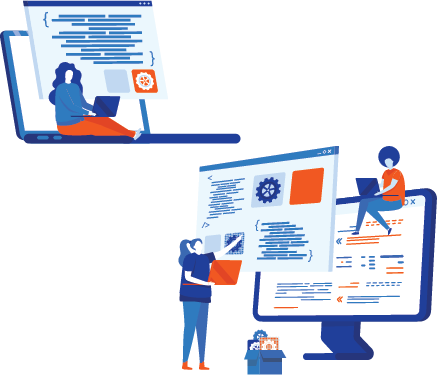 No matter which desktop, laptop or workstation you use or which operating systems you are running, SymbiSystems monitors, maintains and manages them all.
Every employee has access to the server from a workstation, writes contracts and emails, conducts business, and creates great new designs for the next project. In order to avoid delays and downtime that can cost a company money or even result in a client's business failing, workstation support is essential. When issues arise on the workstation, new ideas and daily tasks get in the way.
Aside from computer support, SymbiSystems offers a variety of workstation services as well. Whether a new employee requires computer setup or a problem occurs while working, our team can provide the assistance they need. Additionally, workstation support can ensure continuity in security practices during installation, terminations of employees, or proactive/reactive responses to new security threats.  To minimize downtime and save money for business owners, our team can assist companies with any problem or keep them updated on new security, program, or hardware options.
Setup
Computer setup (new location, new user, old employee, new computer needed)
The setup of computers occurs frequently when new employees are hired or when a new computer becomes available for a current employee. Using SymbiSystems, each employee can start working immediately without having to spend time setting up the programs they need. We provide consistency in the type of setup so that each employee has a balance between security and access. In 1-4 hours, depending on the setup, we can handle the setup for you.
Multiple Monitors
With multiple monitors, working becomes easier and having multiple programs visible at the same time increases efficiency. Adding a monitor or two to a laptop is part of SymbiSystems's workstation support. In addition, they can recommend monitors and adapters to connect them.
Docking Stations
If you need to connect multiple devices to your laptop, such as a couple of monitors, a printer/scanner, or a credit card terminal, a docking station may be necessary. In order for employees to be able to set up their computers at the office easily when they take them out in the field, SymbiSystems installs docking stations. With a docking station, there will be more USB, HDMI, DVI, etc. ports available. Laptops only have a limited number of ports.  In this way, there are few limitations on what a staff member can use to assist the workflow.
Printers
The printer needs of offices vary. Some offices have small printers that are directly connected to each computer, while others have large networked printers that are shared by a group of employees. SymbiSystems has a lot of experience with a wide variety of printers, including commercial copier/printers and commercial copier/printers that most employees can use. SymbiSystems can help individuals set up the printers. Any issues that arise with usage Support can be provided remotely or on-site, depending on the need. Moreover, we can set up and service networked printers, as well as set up employees to use them. After that, we can assist with any problems that arise so the printing process continues smoothly. As printing is a critical part of many businesses, SymbiSystems Services provides support for all types of printers.
Scanners
It is also important to businesses that scanners work efficiently. SymbiSystems sets up and maintains scanners. SymbiSystems will make sure that every user has access to the scanner through the network, whether it is a plug-and-play scanner or a networked device that is part of a larger copier.
Network Connection
The availability of a network connection and an internet connection is essential to every business. Every workstation needs to be able to share data and connect to the internet when it's necessary. Any network connection issues are an urgent issue for SymbiSystems because we know how important these resources are to each client. It is an emergency according to our Service Level Agreement, so it will be addressed immediately.
Install or Uninstall Programs
It is important for companies to keep only current programs on their workstations so that storage can be used for new programs, files, or for new programs. Some programs use a certain amount of resources on a computer, whereas others are used consistently over years and others for a short time. SymbiSystems can be used to install and uninstall programs as needed. Terminated employees can have their computers wiped clean so they can be reset for a new user.  The old programs can be uninstalled by current users to improve computer performance and open up space for newer ones. Leadership can keep track of licensing costs and the types of programs employees use by running reports of usage that contain information about program usage. If desired, SymbiSystems can also limit employee rights to download programs so only company programs are available on company computers. SymbiSystems can then install any programs when employees need them.
Computer Maintenance Schedule
There is a lifecycle for every device. Most workstations last 3-5 years. Therefore, companies have to plan to replace computers regularly. In this case, a few computers can be replaced at once instead of when they stop working or work well in an emergency. By using a maintenance schedule for computers, a company can determine when to replace them based on the ages of each computer.  Following a Network Assessment, SymbiSystems can advise business leaders on which computers need to be replaced and which types of computers will fit their needs most effectively.
Hardwirings vs. WiFi
If the office has workstations, what kind of connection should it have? With access points throughout the building, it is easy to implement WiFi and access anywhere in the building. Hardwiring, however, requires cabling to be run to each workstation, but it provides a more secure and reliable connection. Based on the building and configuration, SymbiSystems can recommend the best connection type.
Email Setup & Management
Email is one of the most common, daily uses for workstations. It is not unusual for employees to use Outlook or Gmail frequently. SymbiSystems can help with setting up email accounts for new employees, troubleshooting as needed as they work, and terminating access when they leave the company. Besides keeping licenses and software current, SymbiSystems also ensures that each user has the best experience with the program they use most often by keeping the software up to date.
Remote Server Access/VPN/RDP
Remote working may be necessary for a variety of reasons. To ensure that every company has the capability to work and have access to necessary information, SymbiSystems Services offers remote workstation support, shared file access, and VPN/RDP access and security. In this way, employees can still work efficiently while away from the office. In addition to providing secure access to each company, SymbiSystems helps set up employees and supports their use. It terminates access when necessary if necessary.
Cloud Software
Cloud software is also a common requirement for workstations. SymbiSystems can set up the cloud software so it interacts well with the network and workstations. Once the third party cloud software company has been set up, individual access is then managed along with troubleshooting any problems. When employees don't have to spend long hours on the phone with a variety of support companies, it saves them time and money.
Phones
While SymbiSystems does not sell phones, they ensure they are properly set up and work with the network. Employees have many options for phones that are often included with each workstation setup. In addition to ensuring VoIP phones have sufficient connection for call quality, we also offer recommendations for recommended vendors, with price expectations and Internet speed recommendations.
Helpdesk Troubleshooting
>If you need assistance with anything, SymbiSystems's helpdesk is ready to assist! Our technicians can assist you over the phone or by email. With a remote connection, common issues like email, printing, scanning, software malfunctions, computers running slowly, and remote access can frequently be resolved immediately. With remote technician assistance, staff can get back to work quickly and without much interruption.  An on-site visit may be required for issues relating to connection, computer setup, and devices connected directly to the workstation. Regardless of how large or small the project is, employees can get the help they need quickly with our monthly service agreements, which include all-inclusive support. IT projects can also be planned out in advance. SymbiSystems strives to provide proactive support for each company in order to prevent crises and minimize downtime.
Security
Computer security is an important aspect of workstation support. 60% of all security breaches are the result of employee error. Therefore, it is important to have tools that can be used to detect or prevent potential problems. Using SymbiSystems, workstations are monitored 24/7 to detect issues with their hard drive, internal temperature, etc. Monitoring software can also be used to schedule updates, preventing security breaches by deploying security patches timely on all company workstations. With anti-virus protection, you can protect your computer from many viruses and even prevent threats such as ransomware by detecting the pattern of attacks. As part of SymbiSystems's workstation support, security measures such as these and many others can prevent data loss and downtime caused by hardware issues and viruses.
In order to support each aspect of technology, including workstations, SymbiSystems offers a proactive plan to help businesses. There is a great helpdesk for each workstation that can handle any issues related to the computer and other devices attached to it. Each workstation is protected with security and backed up by a great helpdesk. By doing so, business owners can rest assured that their staff will be able to work more efficiently and return to work more quickly if a problem arises.