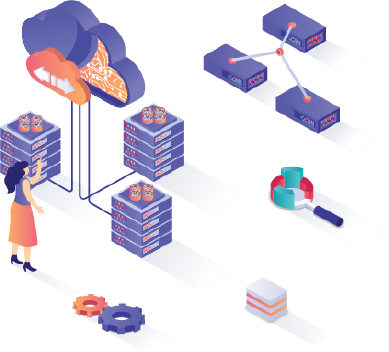 We offer managed virtual private servers with varying configurations and operating systems to best suit the specific needs of your business.
In order to maximize the performance, storage, and memory of your computer, server virtualization is a great tool. Since server virtualization was created, SymbiSystems has worked with it and supported it. Our technicians can assist you with VMware or Hyper-V support. If you already have a physical server in place, we can help you virtualize it.
A server's hardware capabilities often exceed the requirements of the task it is selected to perform in today's era of modern computing. In your office, you may have two physical servers. Neither server needs much processing power or memory to do their job, so they can be virtualized into one physical server. The one server serves as the file server, and the other as the print server.  As a result, your company saves not only space, but also electricity.
There are other advantages to virtualization. Virtualized servers offer more options for disaster recovery, backups, replication, and redundancy. It is possible to take a snapshot of a virtualized server to provide a quick copy of all its settings. This can be used in case of a failed update or other misconfiguration.
A redundant server infrastructure can also be set up by SymbiSystems Services to prevent downtime caused by hardware failures. As well as being able to migrate virtual machines on the fly between physical servers in a clustered environment, multiple physical servers can share their resources. This makes it easy to upgrade physical hardware, since the virtual machines don't have to be taken offline for the technicians to change parts.
Even more redundancy can be provided if a primary site ever goes down by replicating virtual machines to off-site locations.